Now announcing the second tardis build contest. last years contest was a massive success and the winner's console was integrated into the tardis plugin.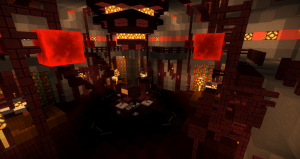 Prizes include a rankup and permission to build your custom console in survival.
Custom consoles must be comparable with the tardis plugin and built in the creative plot system. Creative can be accessed by typing /creative from anywhere on the server.
Guidelines for custom TARDIS schematics
You can create a custom schematic for the inner TARDIS, but there are a few things you need to know before you jump right in!
The custom TARDIS can only have 1 iron door, 1 stone button, and 1 wood button in its initial design (in addition to the placeholder blocks as listed below).
The TARDIS should be sized in multiples of 16 blocks (1 chunk) — two sides of the tardis interior will have a 1 thick layer for red-stone that must be included however. For clarification on the structure of the room grow an empty using your ars system and inspect it's dimension and the door system.!
TARDISes should be squares i.e. that same width (x) and length (z) dimensions. A 16 x 16 block TARDIS is good, a 24 x 18 block TARDIS would be bad.
When you are facing the outside of the TARDIS door, you should be pointing SOUTH.
The are some special placeholder blocks that are needed so the that plugin will record the location of the TARDIS controls. They are:


| | |
| --- | --- |
| cake block | handbrake |
| monster stone (97:0) | Save Sign |
| 97:1 | Destination Terminal |
| 97:2 | Architectural Reconfiguration System |
| 97:3 | TARDIS Information System |
| 97:4 | Temporal Locator |
| 97:5 | Keyboard |
| Mushroom stem (100:15) | All 4 repeaters |
| Sign | Chameleon Circuit / Preset selector |
| A second sign | Control centre (requires TARDIS v3.2 or higher) |
| Wood button | Artron Energy Button |
| Stone button | Random Destination Button |
| Chest | Artron Energy Condenser |
| Iron door | TARDIS interior door |
| Spawner | Scanner |
| Bedrock | To block off the Beacon beam (used when turning off the power) |
The Tardis must be completed by March 31st! and a post must be made in tardis contest including coordinates of your tardis in creative and a one line summery of the theme.